Resources
Welcome to the Table Tennis University resources section, a curated list of the equipment and tools we strongly recommend for table tennis players looking to improve their game.
We have tested every recommendation on this page. Many of the resources listed here are "insider secrets", passed between top coaches and the players fortunate enough to train under them. We are convinced they won't disappoint you!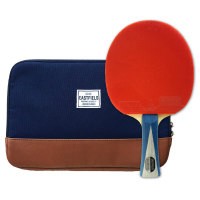 Eastfield Allround
#1 for Table Tennis Rackets
Widely regarded as "the best table tennis racket for beginners", the Eastfield Allround has been a popular choice among new players since its release in 2016.
It's a professional custom set-up and features two sheets of Eastfield A-Soft tacky rubber and a 5-ply Eastfield Allwood blade. This racket will give you everything you need to move from beginner to expert.
- Available to buy from EastfieldCo.com
- Also available from Amazon.com and Amazon.co.uk
The Eastfield Original racket case is sold separately for $24.95, but you can bag yourself a $10 discount if you buy both items together. It holds one bat, features a navy design, PU leather trim, and even has a small table tennis bat logo on the back.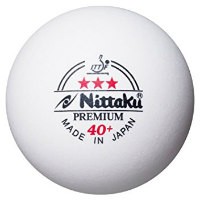 Nittaku Premium 40+
#1 for Table Tennis Balls
Since the change from celluoid 40mm table tennis balls to the plastic 40+ balls in 2015 there has been much confusion among players. However, after much testing, the Nittaku Premium 40+ 3-Star ball (which is made in Japan) has been accepted as the highest quality by the majority of users.
It's the roundest and hardest ball currently available and much more durable than the other seamed plastic balls on the market.
- Available to buy from Amazon.com

- Also available from Tabletennis11.com
We also like the XuShaoFa 40+ 3-Star seamless table tennis balls (that are made in China). These are cheaper and a very good alternative if you can't get your hands on the Nittaku Premium.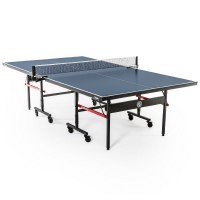 Stiga Advantage
#1 for Table Tennis Tables
Is it possible to buy a competition-ready table tennis table for less than $400? It is now! The Stiga Advantage is surely the best budget table tennis table on the market.
It features a 16mm table top, a professional Stiga net and post set, and can be assembled in less than 10 minutes.
- Available to buy from Amazon.com

If you're based in the UK and are looking for a 25mm professional quality table tennis table, the Dunlop Evo 8500 is ridiculously good value at £499.99. It is also the official table of the World Championship Of Ping Pong!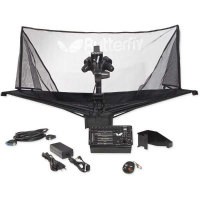 Butterfly Amicus Professional
#1 for Table Tennis Robots
This is the ultimate table tennis robot. The Butterfly Amicus Professional was released in 2015 and has every feature you would expect from a top-of-the-range robot; 8 balls per drill, memory space for 99 saved drills, and three heads that can produce every spin and no spin balls.
You won't find a better table tennis robot. The Amicus Professional is almost as good as training with a professional coach!
- Available to buy from Amazon.com

- Also available from Megaspin.net
We also like the much cheaper Newgy Robo-Pong 2050 table tennis robot. It lacks many of the advanced features of the Amicus Professional, but is a great basic robot.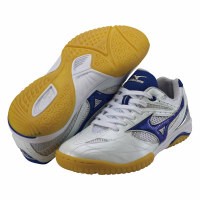 Mizuno Wave Drive
#1 for Table Tennis Shoes
Most of the top Chinese table tennis players choose to wear Mizuno Wave Drive shoes. If they're good enough for Ma Long and Zhang Jike, that's good enough for us!
The Mizuno Wave Drive is low, lightweight, and grippy. It also has plenty of mesh - to allow your feet to breathe. Treat your feet!
- Available to buy from Tabletennis11.com

We also like the Butterfly Energy Force and Lezoline shoes that are made in collaboration with Asics. Many players love these shoes. They are available to buy from Megaspin.net!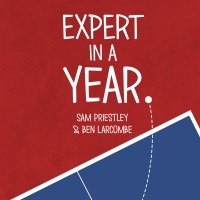 Expert in a Year
#1 for Table Tennis Books
The Expert in a Year Challenge took place during 2014 and followed the progress of novice table tennis player, Sam Priestley, as he attempted to go from beginner to expert in just one year and break into the top 250 table tennis players in England.

Expert in a Year: The Ultimate Table Tennis Challenge, released in August 2015, is the complete story of the experiment, written in Sam's words. If you are a beginner/improver that is serious about developing your table tennis, this is a must read.
- Available to buy from Amazon.com and Amazon.co.uk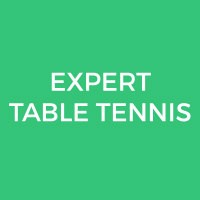 Expert Table Tennis
#1 for Table Tennis Blogs
ExpertTableTennis.com is run by Ben Larcombe, a table tennis coach from the UK and the new owner of Table Tennis University. It is a great place to learn how to play table tennis and receive advice from an experienced coach.
Ben also has a monthly table tennis podcast featuring interviews with top players and coaches, and produces videos on YouTube.
- Click here to visit ExpertTableTennis.com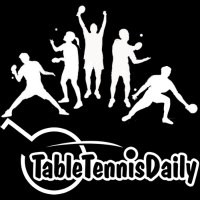 Table Tennis Daily
#1 for Table Tennis Forums
With over 35,000 members, TableTennisDaily is the biggest and best table tennis forum on the internet!
TTD is run by Daniel Ives, a table tennis player and coach from the UK. On top of the active forum there is also a podcast and regular equipment reviews.